Yoga and Meditation are super beneficial for everyone, especially kiddos! Yoga helps with flexibility, endurance, and self-confidence, among a host of other awesome health benefits. Meditation increases focus and attention, and lowers anxiety and depression. They both are OMazing tools to boost immunity, help kids deal with stress, and teach love and kindness towards themselves and others. Promoting health, wellness, and happiness in children is reason enough to make yoga and mediation a part of a child's daily routine. 5-10 minutes is all it takes! Check out these info-graphics and book info below to learn about the benefits of doing yoga and meditation.
Grown Ups: This is a fun way to spend time with your kids because all of these benefits apply to you as well. 🙂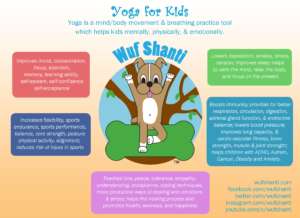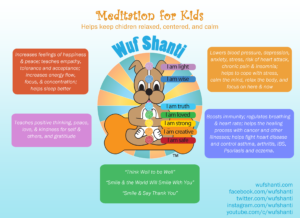 Benefits of various poses and meditations can also be found in our coffee table style book for kids, Living in Light with Wuf Shanti: A Yogic-Minded Lifestyle for Children. The book includes 115 pages of gorgeous pictures, yoga pose descriptions, benefits, suggested mantras, and meditations. A fun way for kids and their grown-ups to learn and practice the yogic-lifestyle together.
Wuf Shanti is a recipient of the prestigious Mom's Choice Award and named among the "Best in Family-Friendly Media, Products, & Services."
http://wufshanti.com/product/living-light-wuf-shanti-yogic-minded-lifestyle-children/