We are so excited, honored, and grateful that Adam's story was selected to be in the new edition of Chicken Soup for the Soul: Think Positive, Live Happy! What better fit for Wuf Shanti could there by than the "Think Positive, Live Happy" edition?! His story is about his Great-Grandpa Jack, the inspiration behind Wuf Shanti, and the man who started it all. "Think Well to Be Well," as Grandpa would say. It's a lesson we should all take to heart every day.
We want to send a big thank you for the entire Chicken Soup for the Soul team. Everyone go pick up a copy, and it will certainly brighten up your day! Adam's chapter is called "Mindfulness Matters." Check it out. It's available NOW at your local bookstore or online: http://bit.ly/2ZYUtNY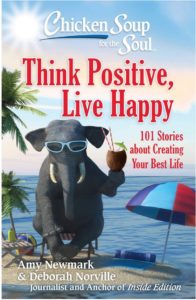 Please also follow Wuf Shanti for updates on all social media platforms @Wufshanti. Thank you.