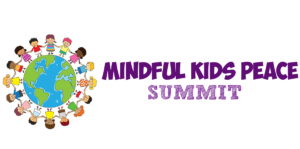 The idea for the first international Mindful Kids Peace Summit (MKPS) came because I was concerned about the violence in the world, and wanted to help kids learn to live in health and wellness, and peace and positivity, so that they can grow up to live healthier and happier lives.
The statistics for the number of tweens and teens anxiety, depression, anger, bullying, suicide, and homicide have risen greatly in the past few years, and some kids may think there is nothing they can do about it. But there is. Mindfulness tools can help kids to learn better ways to cope with emotions or deal with stress as they grow up, and hopefully they will be happier teenagers and more peaceful adults. These tools can also help you do better in school, and make a positive impact on the world as well.
At this summit, you will hear from pioneers in the industry, who will share with you different techniques you can use to navigate through and process emotions and stress. You will watch interviews, panels, and motivational speeches from celebrities and professional athletes, who will share with you their health and wellness routines, their charitable endeavors, foundations, and what they do to make a positive difference in the world. You will also see demonstrations that you can try at home, in school, and with your parents, teachers, and friends.
Topics that will be covered include anything in the mindfulness area, such as mindfulness, positive thinking, kindness, peace, yoga and mindful movement, breath work, communication, diversity, inclusion, gratitude, social emotional learning, and so much more. It is all so important, especially with everything going on in the world right now.
We must all come together in order to stop the violence and make a positive impact. Just as reading and math are mandatory parts of curriculum, we believe so too should mindfulness be incorporated into education. Our vision is to build momentum so that all schools across the country and internationally attend the Summit each year at the same time as part of the curriculum. Talking points and materials will be distributed to schools that attend, so that the teachers can plan discussions around the daily summit segments, and kids will be awarded service points for attending via an attendance certificate that we will provide to the school.*
We hope you will join us on this magnificent mindful journey of peace.
Thank you,
Adam
*It is the responsibility of the school to make sure the child attends the Summit, make copies of the certificate, add the child's name, and sign the certificate.
2019 Agenda:
DAY 1  We Are All One:  Diversity, Inclusion, and Communication
DAY 2 Living Together in Peace: Kindness and Anti-Bullying (stop the violence)
DAY 3 Mindfulness Matters: Tools for Kids to De-Stress and Cope with Emotions (include Yoga, Meditation, Breathing, Positivity)
DAY 4 Doing Good: Things We Can Do Together to Make the World a Better Place and Collaboration
DAY 5 Social Emotional Learning, Interacting with Others, Positive Psychology: More Mindfulness for Kids, and how Teachers and Parents can help.
Link to the Mindful Kids Peace Summit, which is being hosted in conjunction with MindBe Education & Helen Maffini: https://www.mindfulkidspeacesummit.com/first-page
To learn more about Wuf Shanti: