Yoga, Meditation, & Mindfulness are super beneficial for everyone, especially kiddos! Yoga is often considered in the west to be simply a physical activity to increase flexibility, and although that is a beautiful and necessary element of the practice, it runs so much deeper than that. The true practice of Yoga is bringing it off of the mat and into the world. Thinking like a yogi is an integral part of living in health and happiness. Meditation is being in quiet thought and stillness, which allows the active thinking mind to settle inward, so we can experience a calm, peaceful level of awareness. Mindfulness is the ability to notice what's happening right now, and not get overwhelmed by what's going on around us. It's about being present now, instead of worrying about yesterday or tomorrow, about paying attention to the present moment and living with kindness towards ourselves and others. Science has shown that positive thinking, yoga, and meditation help the healing process.
Yoga helps with flexibility, endurance, and self-confidence, among a host of other awesome health benefits. Meditation increases focus and attention, and lowers anxiety and depression. Mindfulness helps increase clarity, tolerance, emotional intelligence, and compassion. They are all OMazing tools to boost immunity, help kids deal with stress, and teach love and kindness towards themselves and others. Promoting health, wellness, and happiness, and encouraging peace and positivity in children is reason enough to make yoga, meditation, and mindfulness a part of a child's daily routine.
Grown Ups: This is a fun way to spend time with your kids because all of these benefits apply to you as well. 🙂
Check out the info-graphics for kids and teens and book info below to learn about the benefits of doing yoga and meditation, and download for your classroom(s).
Two great activities to try with kids are visualization and breathing techniques. Did you know if we learn to breathe correctly that it could add years to our lives? 5-10 minutes is all it takes! Check out this Wuf Shanti poem to help the kids understand:
Eating healthy food, drinking water, and getting lots of sleep are all good rules,
Visualization and Breathing slow and deep are also important wellness tools.
Think of a place that makes you feel happy, safe, calm, and/or free,
Close your eyes, and say, "I love being me."
It can be an ocean, mountain, or your favorite room,
Breathing in, the belly fills up like a balloon.
Hold it while counting to four,
And think loving happy thoughts that fill you up more.
Exhale slowly out and let the yucky feelings go,
You can do it before a test and no one will ever know.
If you take five minutes out of every day to breathe and chill,
You will feel more focused, at peace, and wonderfully still.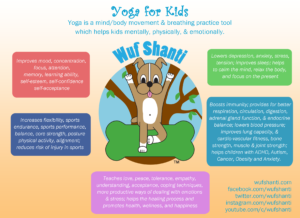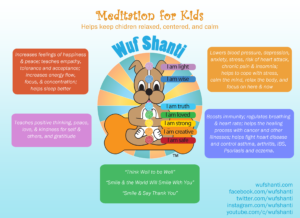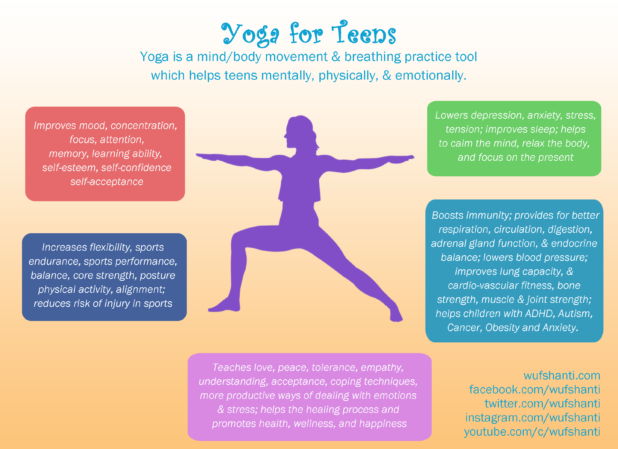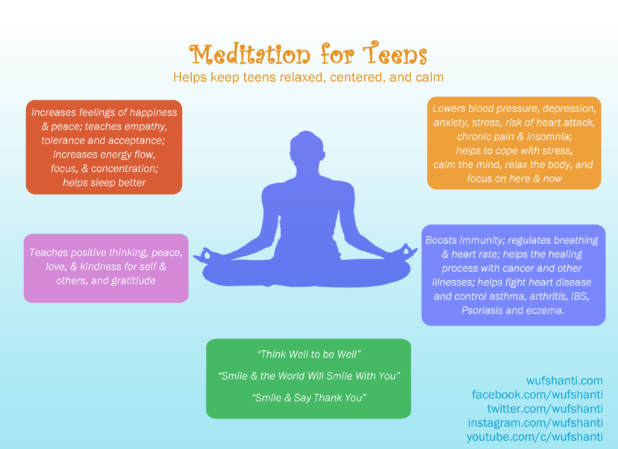 Benefits of various poses, meditations, and mantras can also be found in our coffee table style book for kids, Living in Light with Wuf Shanti: A Yogic-Minded Lifestyle for Children. The book includes 115 pages of gorgeous pictures, yoga pose descriptions, benefits, suggested mantras, and meditations. A fun way for kids and their grown-ups to learn and practice the mindful yogic-lifestyle together.
Wuf Shanti is a recipient of the prestigious Mom's Choice Award and named among the "Best in Family-Friendly Media, Products, & Services." We are also parent approved by the National Parenting Product Awards (NAPPA) for "Best Products for Kids." Common Sense Media named Wuf Shanti's Mobile App in their "Best Health Apps and Games for Kids" and "Best Meditation Apps for Kids" lists.

https://wufshanti.com/product/living-light-wuf-shanti-yogic-minded-lifestyle-children/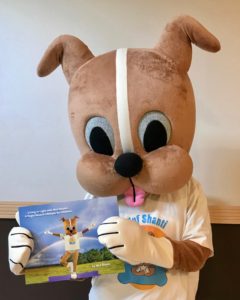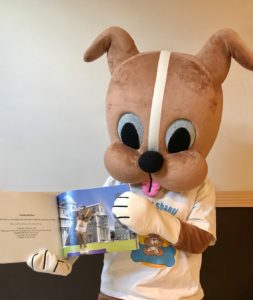 For older kids, we have the Mindful Kids Peace Summit, a 5 day international online Summit, which tweens and teens in middle and high schools across the globe watch on the same days, and each of the 5 days has a different theme, with interviews, demonstrations, exercises, presentations, and motivational speeches given by pioneers in the industry, celebrities, and professional athletes. There are also videos for teachers and parents, and downloadable resources, such as worksheets, lesson plans, activities, and discussion points. It's about mental health mindful social emotional education and stopping violence. Learn more here: https://wufshanti.com/resources/mindful-kids-peace-summit/
DAY 1 We Are All One: Diversity, Inclusion, and Communication
DAY 2 Living Together in Peace: Kindness and Anti-Bullying (Stop the Violence)
DAY 3 Mindfulness Matters: Tools for Kids to De-Stress and Cope with Emotions (include Yoga, Meditation, Breathing, Positivity)
DAY 4 Doing Good: Things We Can Do Together to Make the World a Better Place, Interacting with others, Compassion, and Collaboration
DAY 5 Social Emotional Learning (including Self-Awareness, Self-Regulation, Self-Compassion, Resilience, & More), & Positive Psychology: More Mindfulness for Kids, and how Teachers and Parents can help.