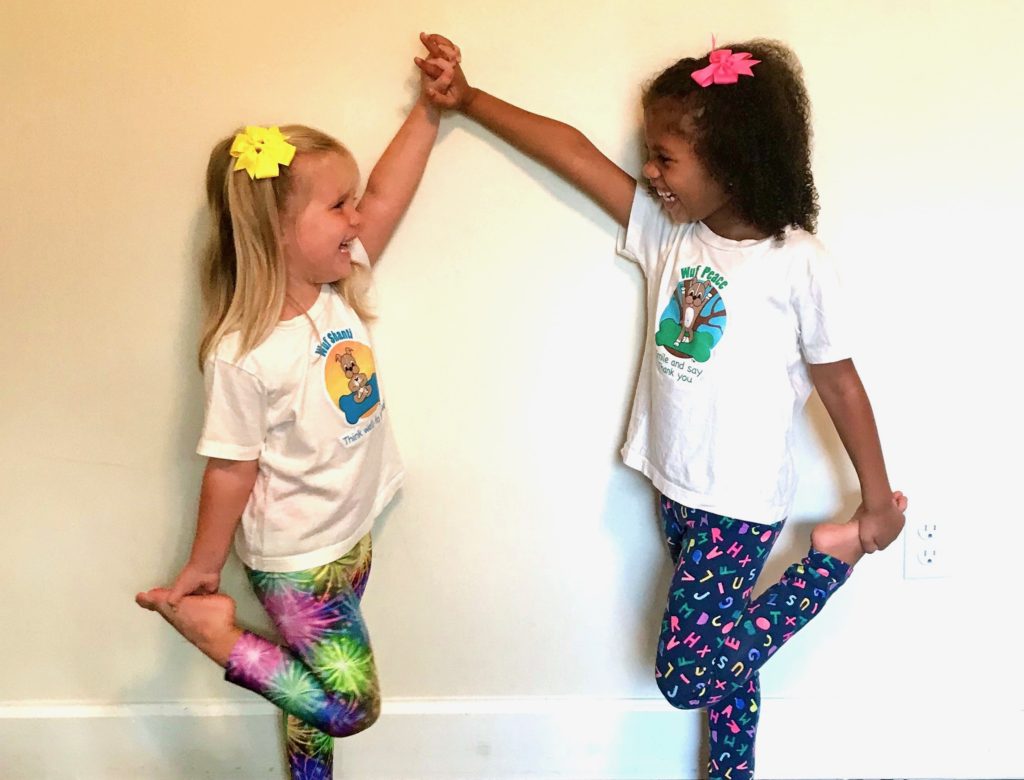 1. Who is Wuf Shanti? Wuf Shanti is a dog character that was created by a kid for other kids to promote health, wellness, and happiness, and encourage peace and positivity. We teach kids mindfulness social emotional learning techniques and positive thinking through fun games and music. Our curriculum focuses on both "on the mat" and "off the mat" exercises, and is all about kindness, diversity, inclusion, communication, giving, compassion, gratitude, emotional intelligence, positive psychology, self-awareness, self-regulation, self-compassion, collaboration, and empathy. The rates of isolation, bullying, suicide, and homicide in children has risen dramatically, and we must come together to help stem the violence. If we can reach kids when they are young, then these tools to help cope with emotions will become an automatic response to stress or trauma, and they will hopefully be less depressed and anxious teens and happier peace-loving content adults. We have 7 books (6 fiction, and 1 non-fiction), 100+ videos, a Wuf Shanti Yoga Fun Machine mindful mobile app, and a mascot that visits schools and children's hospitals. We also have an older curriculum for tweens and teens. Learn more about us here: https://wufshanti.com/about/
2. Where can I find Wuf Shanti videos and the TV Show? All of our videos are on this website https://wufshanti.com/videos/, as well as on YouTube https://www.youtube.com/c/WufShanti . Please subscribe to our YouTube channel. It is free to subscribe. We are also honored that the Children's TV Network http://childrenstelevisionnetwork.com/, the in-house station at Children Hospitals across the country, are distributing our videos in their hospitals . Our videos are also on local PBS stations http://www.southfloridapbs.org/wufshanti/, BatteryPop, KidoodleTV (a safe streaming service for kids), Adventure to Learning (in-school health and fitness programming in 25,000 schools), and can be accessed via our mindful mobile app at the links below. Common Sense Media named our mindful mobile app one of the "Best Health Apps for Kids" and "Best Meditation Apps for Kids" lists. We hope these videos bring you joy. Thank you for joining our mission and sharing our intentions to make a positive difference in the world.
3. Can I hire Wuf Shanti and/or Adam for events or Adam to speak at an event?
Wuf Shanti and Adam visit children hospitals, nursing homes, schools, bookstores, yoga studios, festivals, charitable organizations, and other events. In addition, if you would like to hire Wuf Shanti or Adam for an event, please complete the form on the contact us page of this site: https://wufshanti.com/contact-us/
4. Can I interview Wuf Shanti/Adam for my school, newspaper, magazine, podcast, radio, or TV show?
Please complete the form on the contact us page of this site, and we will make every effort to accommodate you if possible. https://wufshanti.com/contact-us/
5. Will you work on charitable projects with non-profit organizations?

The Wuf Shanti Children's Wellness Foundation is a 501(c)3 non-profit organization. We are very proud of our efforts on behalf of many different kinds of charities, and we are happy to team up towards healing this planet and making it a better place for our kids to grow up and live in. We believe in collaboration with like-minded organizations. Please complete the form on the contact us page of this site with your request: https://wufshanti.com/contact-us/
6. Where can I find Wuf Shanti books?

We have 7 books. Each of our fictional books are centered around yogic-principles and beautiful illustrated in a cartoon-like fashion. Titles include: My Grand-dog was Yoga Instructor (the original book that started us on this magnificent journey); Wuf Shanti Makes a New Friend, Happy Birthday Wuf Shanti, Wuf Shanti and Friends Do Yoga in the Park, Wuf Shanti's Day as a Super-Hero, and The Best Gift Ever. They can be found either on our website or Amazon.
Benefits of various poses, meditations, and mantras can also be found in our non-fiction coffee table style book for kids, Living in Light with Wuf Shanti: A Yogic-Minded Lifestyle for Children. The book includes 115 pages of gorgeous pictures, yoga pose descriptions, benefits, suggested mantras, and meditations. A fun way for kids and their grown-ups to learn and practice the mindful yogic-lifestyle together. https://wufshanti.com/product/living-light-wuf-shanti-yogic-minded-lifestyle-children/
7. How do I download the Wuf Shanti Yoga Fun Machine mindful mobile app?
Our app can be download on both Apple and Android devices for free. The mobile app contains Wuf Shanti videos, as well as activities focused on being mindful and yogic, such as puzzles, matching games, coloring books, and the think happy thoughts game. Each video and game is centered around Wuf Shanti's mantras, yoga poses, and meditations to promote health, wellness, and happiness, and encourage peace and positivity.
Iphone/Ipad: https://itunes.apple.com/us/app/wuf-shanti-yoga-fun-machine/id1296345752?ls=1&mt=8
Android/Google Plus: https://play.google.com/store/apps/details?id=com.wufshanti.yogafunmachine
8. What Awards have Wuf Shanti and Adam received? What Certifications does Adam have? What honors has Adam been awarded?

Wuf Shanti is a recipient of the prestigious Mom's Choice Award and named among the "Best in Family-Friendly Media, Products, & Services." NAPPA awarded Wuf Shanti the "Best Products for Kids" award in their Health and Wellness Roundup. Common Sense Media named Wuf Shanti's Mobile App, the Yoga Fun Machine, one of the "Best Health Apps and Games for Kids," and one of the "Best Meditation Apps for Kids." We are so honored and beyond grateful.
Adam is certified in Mindful Based Stress Reduction for Teens, Kidding Around Yoga, the Emotion Code, and Rainbow Kids Yoga.
He was awarded the Young Planet Leader Award from the non-profit Heal the Planet.
Adam was also invited to do a TEDxTalk for [email protected] about getting mindful and social emotional learning programs into our education system, why mental health education is so important to stopping the violence, and using our voice to make a positive difference in the world. He is very grateful for the experience. https://https://www.tedxkc.org/adam-avin-kcyouth/

Watch Adam's TEDx here:https://www.ted.com/talks/adam_avin_mindfulness_in_education_to_lower_stress_and_violence
9. Are the shirts made in America?
Our current inventory is, yes. We have a couple of styles that are not, and if that is the case, we will let you know in the shirt's description. By the way, our books and pants were also made in America. *Please note that our shirts are manufactured by our friends at WeGo-Kids. They have the same great 100% organic cotton, designs and mantras, except they will be appliqued instead of screen printed, and made in India. The shirts are certified to meet or exceed the GOTS specification, dyed with AZO-free/heavy metal-free eco-friendly dyes, nickel free snaps to prevent allergic reaction, and available in both long sleeve and short sleeve. We are excited to embark upon this new adventure. For cleaning and safety information, please visit www.wego-kids.com.
10. Are the shirts organic?
Yes, 100% organic cotton. The doggie shirts are 100% cotton; however, we are still looking for a supplier to make them organically. The women's shirts have some bamboo, and we let you know that in the product's description.
11. What are the sizing/washing instructions?
We would suggest buying the next size up. Please make sure to hand wash or wash the t-shirts inside out with cold water on gentle cycle. Air dry or tumble dry low, and remove promptly when finished. We would not suggest ironing; however, if you feel you must iron, always do so from the back very lightly on low heat by passing over the design, and do not leave the iron on it for too long. Please make sure to read the product description for directions as to how to wash the pants.
12. Are the Stuffed Animals and Yoga Mats made in America?
The stuffed animals are not made in America; however, they are ethically sourced and tested by the manufacturer. The yoga mats are sourced and embroidered by a domestic company, as are the stuffed animals.
13. What's the shipping cost? Do you ship internationally?
Shipping and handling costs depend on the size of the order and shipping location. Unfortunately, we do not ship overseas at this time.
14. Is there sales tax?
Yes, the sales tax depends on your location.
15. How long will it take for my order to arrive? 
Please allow two to four weeks for delivery. If the item is on back-order, we will let you know.
16. What is the return policy?
Check out the most recent info on our Terms of Sale page by clicking this link:  https://wufshanti.com/terms-of-sale/
17. What is the Kids' Association for Mindfulness in Education?
It is a kids' coalition whereby tweens and teens can come together to talk about current events, how they can make a positive difference in the world, better educate kids across the planet to live mindfully, and help get these programs into schools. Mindfulness is about paying attention to the present moment and living with kindness towards ourselves and others. Social-emotional learning is the process of developing the self-awareness, self-regulation, and interpersonal skills that are necessary and so important in life. One of our missions is to get these mindful programs into all schools K-12, so if you're interested in starting a KAME Club at your school, send us a note to let us know. We have some mindful activities and discussion points so we can help you get started! Learn more here: https://wufshanti.com/resources/kids-association-mindfulness-education/
18. What is the Mindful Kids Peace Summit?
It is like an online digital library in which tweens and teens in middle and high schools across the globe can watch videos with interviews, demonstrations, exercises, presentations, and motivational speeches given by pioneers in the industry, celebrities, and professional athletes. There are also videos for teachers and parents, and downloadable resources, such as worksheets, lesson plans, activities, and discussion points. It's about mental health mindful social emotional education and stopping violence. Learn more here: https://wufshanti.com/resources/mindful-kids-peace-summit/ 
Topics include Diversity, Inclusion, Communication, Kindness and Anti-Bullying (Stop the Violence), Tools to De-Stress and Cope with Emotions, Things We Can Do Together to Make the World a Better Place, Interacting with others, Compassion, Collaboration, Social Emotional Learning (including Self-Awareness, Self-Regulation, Self-Compassion, Resilience), Positive Psychology, Substance Abuse, Suicide Prevention, Mental Health, and more! Videos remain as long as they stay relevant, and new videos are added throughout the year. We find that students enjoy hearing from a peer in this kind of format.