Yipppeee!!!! Wuf Shanti was recently featured in the Huffington Post. To read the article, click here: https://www.huffingtonpost.com/entry/from-helicopter-parenting-to-a-mission-with-a-dog-mascot_us_5a21a963e4b0545e64bf92ef
Today's news headlines are not for the faint of heart—mass shootings, bombings, terror, politics, sexual abuse, hurricanes, earthquakes, and more. I'm completely horrified, and as much as I want to shelter my own offspring in an extreme effort to protect my little ones, I know that is not the solution either. One thing is for sure, however, we cannot live in fear… we must manage it and communicate through it.
Ultimately, the true seeds of change begin now with our children, the face of the future. "I think it starts with the next generation, they are the key," said 13 year-old Adam, creator of the dog yogi character, Wuf Shanti. "We have to reach their parents, teachers, and doctors so we can teach them better ways to handle stress and deal with their emotions, and we need to teach them to be kind to each other. If they grow up knowing the tools, the world will be a healthier and safer place."
Climbing out of the Communication Crash
This is not the world I grew up in. As I observe the social nature of adults and children, I am saddened to see more disconnect and discord.
Communication has run dry and is becoming replaced with electronic devices that cut off seemingly invaluable everyday discussion. Outdoor playtime is more commonly substituted with the an ever-growing trend in posting on social media platforms, like an addiction, for a superficial and temporary self-esteem boost in the number of "likes" and comments received.
What happened to our culture? What happened to our sense of communication and camaraderie? With a rise in bullying, isolation, racism, and political strife, we need to incite change now and teach children how to connect, engage, and better handle the stressors that this generation now faces.
How do we teach kids to respect, appreciate, include others, and be kind? I asked that question to Wuf Shanti CEO, Marni Becker-Avin, who also happens to be Adam's mom. "We truly believe that by teaching kids when they are young—important tools such as yoga, meditation, positive thinking, and the yogi-mindset—we can raise less depressed and anxious teenagers and happier peace-loving adults."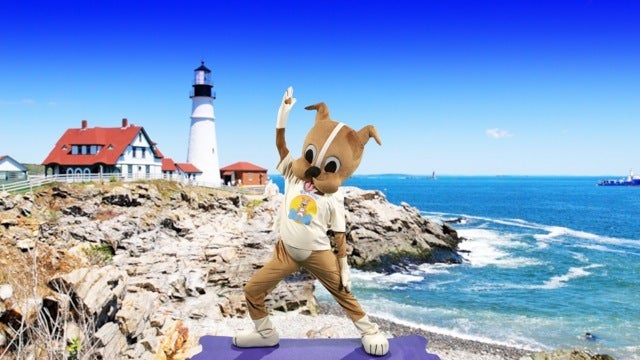 Wuf Shanti is an adorable dog yoga character who promotes health, wellness, and happiness in children, and encourages peace and positivity. This famed dog mascot actively tours schools and children hospitals to promote and instill his message. Wuf Shanti has become a national icon through Adam's series of books and videos that teach the fundamental principles of living mindfully, positivity, kindness, and gratitude, all through fun, games, and music.
Back to Basics
It all started with Adam's book and his desire to teach his great-grandpa's mantras to other children. He then wanted to visit kids in hospitals to help them heal. "His compassion inspired me to want to help get this message out to kids everywhere," explained Erika Lee, President of Wuf Shanti.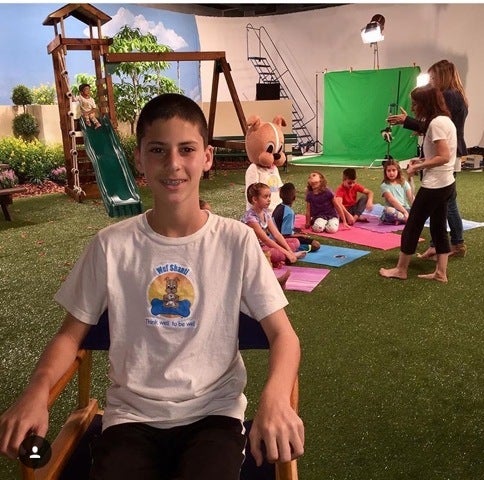 "Yoga is often considered in the West to be simply a physical activity to increase flexibility; and although that is a beautiful and necessary element of the practice, it runs so much deeper than that. The true practice of Yoga is bringing it off of the mat and into the world," said Lee.
Tapping into tomorrow
Reaching out with a positive message to kids, in person and online, is direct and impactful. Best of all, Wuf Shanti videos are truly educational and entertaining. They are on Florida PBS stations during the Kidsvision hours, on the Children's TV Network in children hospitals across the country, and on the Wuf Shanti YouTube Channel on YouTube Kids. There's also a free Mindful app that teaches positive thinking through games.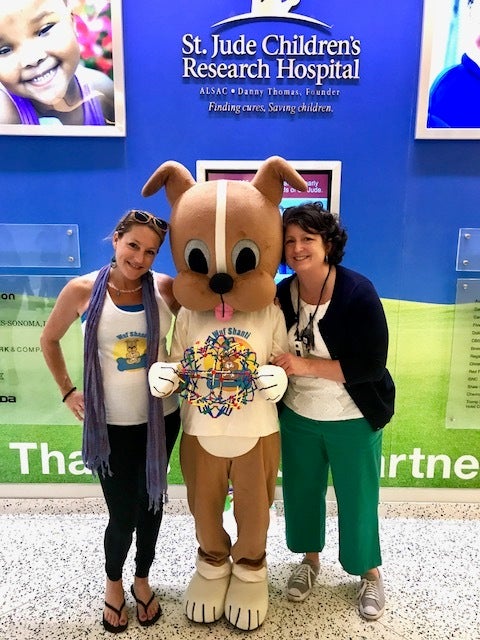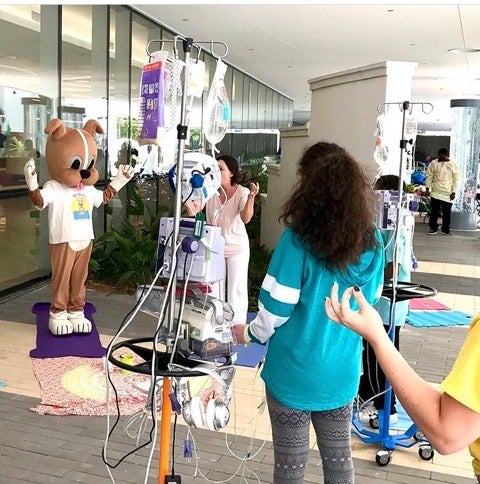 "As a psychologist, I would advocate for children to learn from Wuf Shanti so they can learn mindfulness techniques at an early age that will help them problem-solve as they become teens and hopefully become peaceful, well-functioning adults," said Dr. Chris Willard, a Harvard Medical School professor and President of the Mindfulness in Education Network. "As a parent, we are always looking for ways to impact our children's future and help change the world. This show could not be more timely, with its promotion of health, wellness, & happiness in the next generation, and would be extremely beneficial for children everywhere."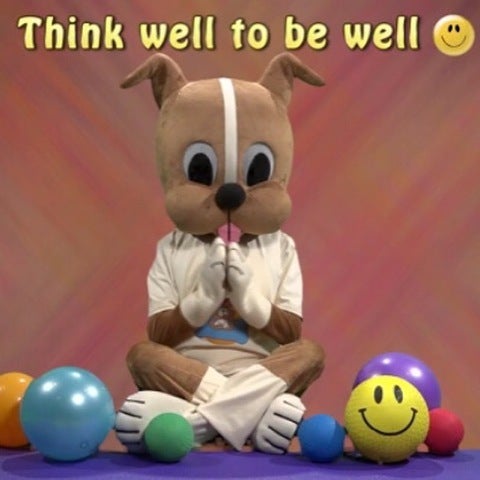 Can the mind control the body? Science thinks it can, and many people believe in the power of positive thinking to help the healing process. Even adults could probably learn a thing or two from this master dog yogi, which is why Wuf Shanti will soon offer more character friends to join him in his mission to make the world a better place.
National Outreach
Adam Levine and Maroon 5 posted about Adam and Wuf Shanti on their social media pages. "That was the coolest! My mom showed me, and I was like Whoa!" said Adam.
When asked if there are other celebrities or athletes that practice yoga and meditation that he'd like to meet, he didn't hesitate to make a list. "Oh yeah, for sure—LeBron James, Dirk Nowitzki, Kevin Love, Blake Griffin, Jason Mraz, Sting, Ellen. My mom also would add Oprah and Deepak Chopra because she likes them. There are so many role models that do yoga and meditate and can help us teach kids to be kind."
Teaching kids yoga, meditation, and mindfulness may not end all violence and discord in the world, but it is certainly a step in the right direction. With so much negativity in the news today, we could all certainly appreciate an added dose of gratitude, peace, and love.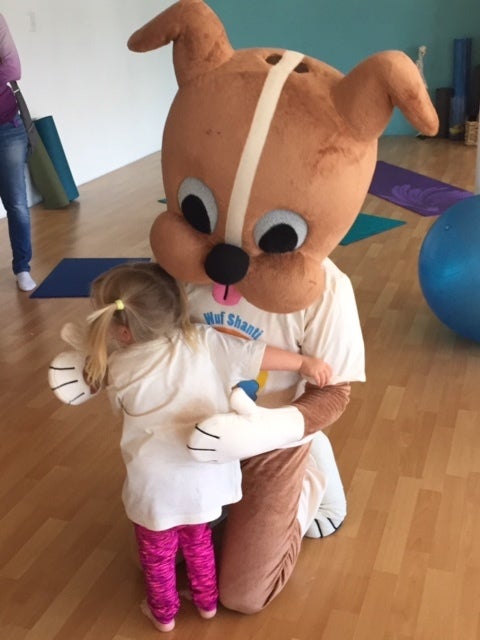 Learn more
Explore Wuf Shanti, his mission, hospital tours, and recent press from the Miami Herald and Sun-Sentinel on their official website. Tap into the Wuf Shanti YouTube Channel (free subscription) for a complete collection of episodes.
Download the New Mindful Wuf Shanti Yoga Fun Machine Mobile App (free) for videos, music, games, descriptions of poses, and more for your iPhone/iPad or Android/Google +.
While we can't helicopter parent our kids into a safer world, we can certainly teach this peaceful practice that offers a greater impact than overprotecting our kids and sheltering their vitality. Let's start a movement for change, connectivity, wellness, and positivity with #WufShanti.